Zoom for kids
Play creative drawing games with your friends and family in real time via video call.

Squiggle is free to play.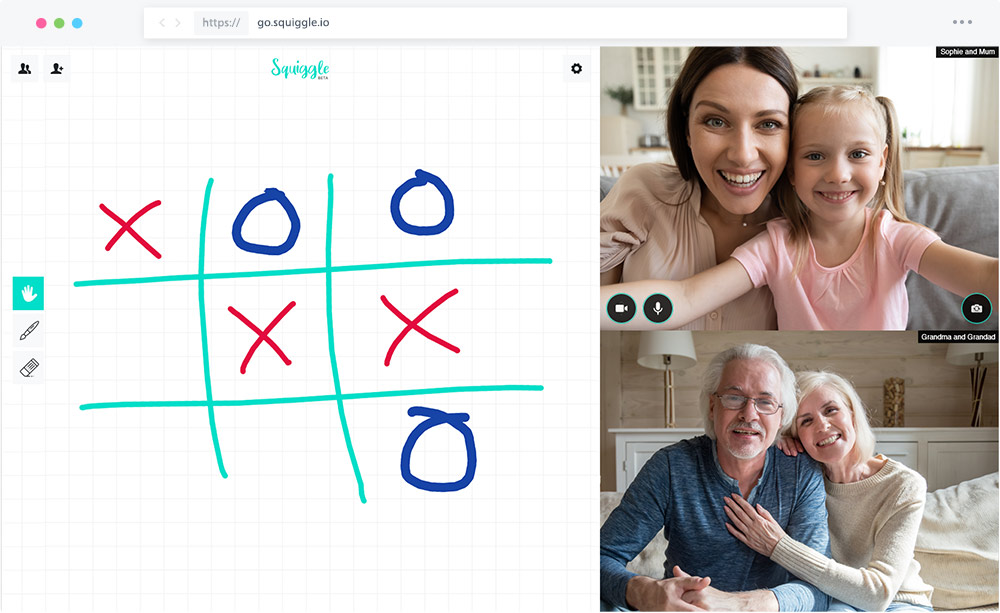 How to play
It is a piece of cake to start playing Squiggle. Just follow these three simple steps.
1
Start a new Squiggle
Create your Squiggle, start your camera and get your unique access codes and invite link.
2
Invite your friends and family
Share your access codes or invite link with the people you want to play Squiggle with. Your Squiggle is private and people can only join if they have an invite.
3
Starting squiggling
Once your friends have arrived start squiggling! Whatever you draw on the interactive canvas will be instantly visible to everyone in real time.
Game ideas
You can play any pencil and paper games with Squiggle. Here are some of our favourites:
The Squiggle Game
Draw a quick squiggle. The other player has to turn it into a picture. Great for young kids.

Noughts & Crosses (aka Tic-Tac-Toe)
Simple. Easy to learn. Great for young kids.

Hangman
Guess the word. Great spelling practice. Good for kids who can read and write.

Dots & boxes
Create boxes from dots. Easy to learn. Simple strategy. Competitive.
Great on touchscreens
Squiggle works brilliantly on touchscreen devices, especially tablets. It is very intuitive for kids to draw with their fingers.
Touchscreen-friendly

Nothing to download

Free to play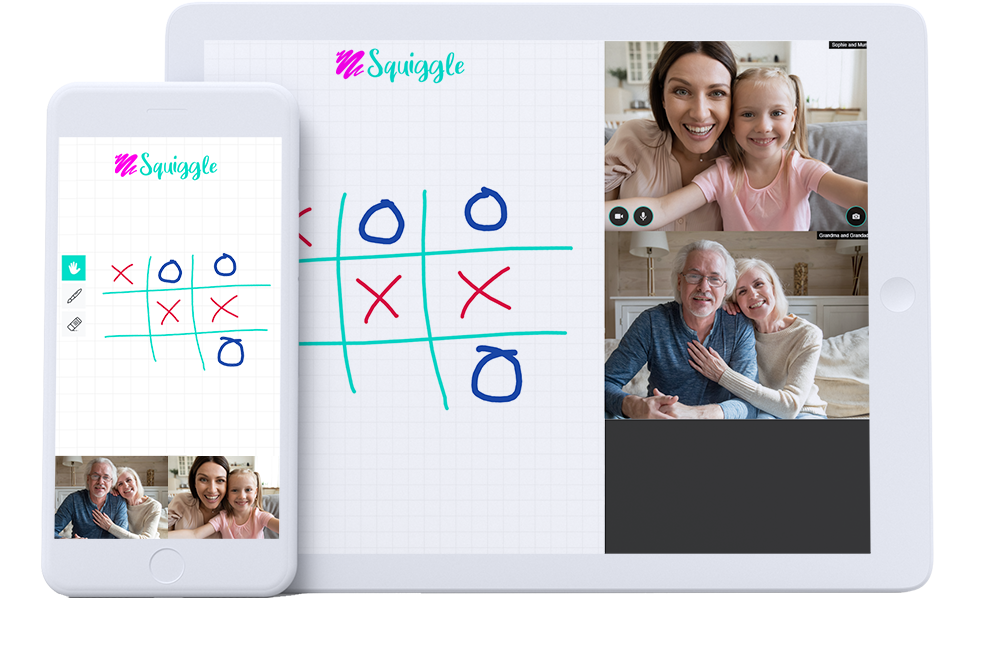 Inspired by lockdown
Squiggle was inspired by watching my two children trying - but struggling with - the strange new, awkward world of limited interaction through conversation-led Zoom calls.
I realised I could recreate the pencil-and-paper experience online and create a safe space where loved ones can still play with, talk to and entertain the children in their lives wherever they are in the world.
Dan
Founder Pricing
Squiggle is free to play, but we need to charge for some features to help us keep the lights on.
No account required
45 minutes per Squiggle
Up to two players
Real time canvas
Pencil, eraser and basic shapes
Play now
Free, plus...
Two hours per Squiggle
Up to four players
VIP your friends
Illustrations for colouring
Coming soon
Basic, plus...
No time limit
Games

Mazes
Pictionary
Wordsearches
Spot the difference
Coming soon
Word on the street
Squiggle has been enjoyed by many people already. This is what they said:
Squiggle has allowed my kids to have hour long calls with their grandparents instead of 5 minutes. Free childcare!
I love seeing my grandchildren and their big smiling faces when we play Squiggle together.
I love playing Squiggle with my friends. I'm the best at noughts and crosses now!
My children are so much more engaged when they play Squiggle compared to Zoom. It's lovely to see.
I love watching granddaughter draw and create. She's too young for proper games, but she loves making pictures with me.